Scroll down to see reviews of all eight of Wayne's albums.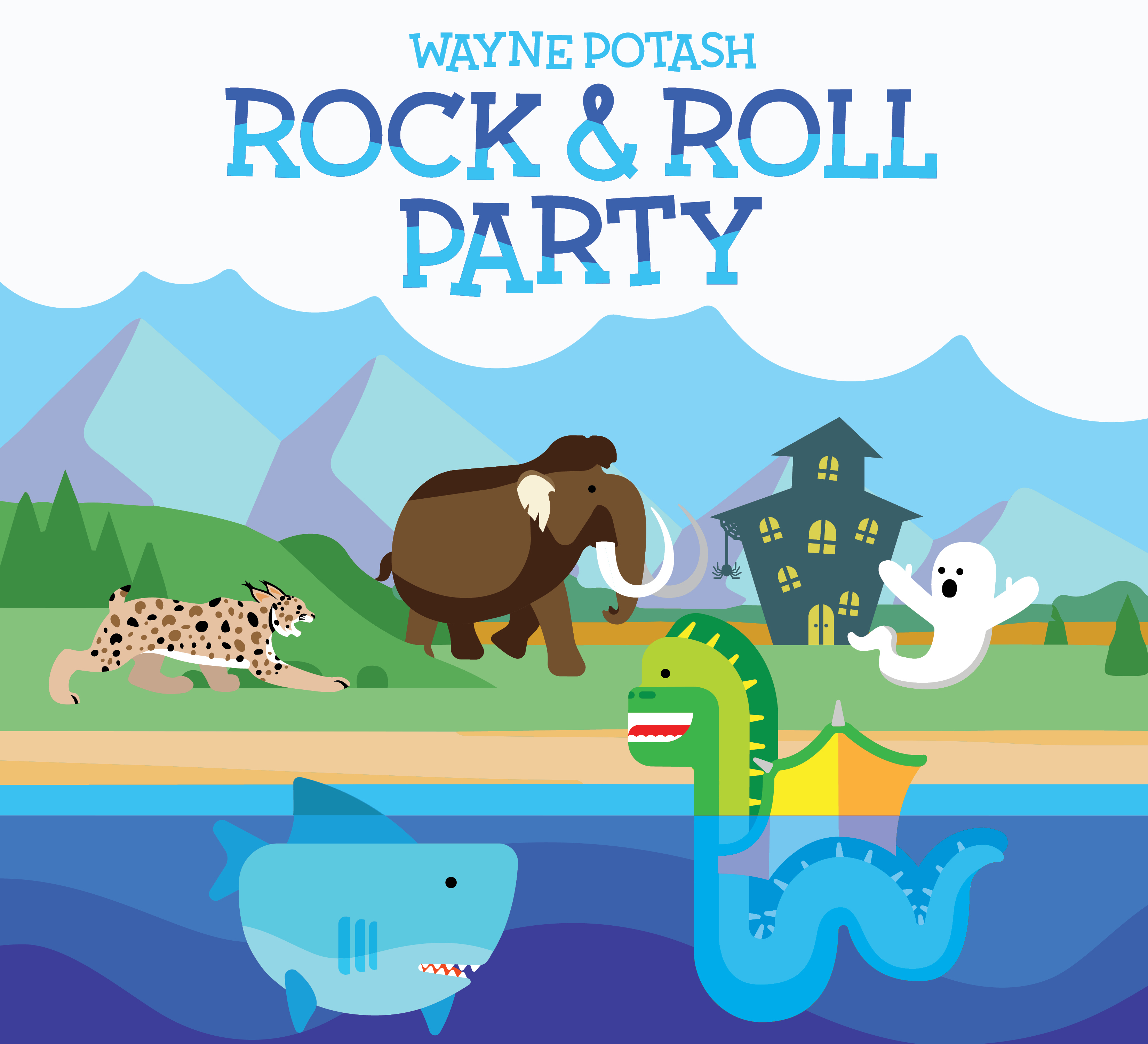 2017 NAPPA Award Winner, 2017 Creative Child Magazine CD of the Year Award, Parents' Choice Fun Stuff Award Winner 2017 "Brimming with hand-clapping, toe-tapping, get-up-and-move fun, Rock & Roll Party is highly recommended." - Midwest Book Review. "With a rock and roll sound and choruses you can't get out of your head, parents will quickly find themselves singing along, even when there aren't any kids in the car." - Kids Rhythm and Rock. "16 tracks that will entertain and amuse young listeners." - Mr. Jeff 2000
National Parenting Product Awards  In Rock & Roll Party by Wayne Potash you can  rock out with 16 rock & roll songs mixing original tunes (many co-written with groups of children) with rock classics by Aerosmith, The Who, George Thorogood and John Lee Hooker with clever new kid-friendly lyrics. High energy songs blended with some mellower tunes encourage kids to join the party and sing and dance along.
Our Music reviewers had this to say about Rock & Roll Party by Wayne Potash:
"Here's a kids rock & roll party that parents will want to attend along with their children. Potash has packed his CD with songs that really rock (check out the guitar crunch on "At The Baseball Game" that kicks off the disc). He scores well with his sense of humor too (the song "Bobcats" is about both the animal and the construction equipment). Potash also stocks the album with classic rock songs, like "Bad To The Bone" and "Train Kept A-Rollin," that he has smartly re-imagined for kids, along with a version of the Who's "Boris The Spider" that he has left alone."
Rock & Roll Party. Performed by Wayne Potash. CD.  50 min. Happy House Records. 2017 Bostonian Wayne Potash belts out these 16 tunes in several varieties of rock & roll including hard rock, rockabilly, 50s rock, and 60s rock, complete with wailing guitars. There is also a bluegrass tune for good measure. The backup musicians give excellent performances on guitar, saxophone, drums, organ, keyboards, banjo, percussion, upright bass, and piano. Four of the songs cover the tunes of popular rock bands, but with Potash's own lyrics: Aerosmith's "Train Kept A Rollin'," The Who's "Boris the Spider" (with a children's chorus), The Destroyer's "Bad to the Bone," and John Lee Hooker's "Boom Boom." Potash likes "Bobcats," both the animal and the machine. He has a hankering for candy in "Sweet Tooth." If you don't have anything nice to say, then "Don't Say Anything." Guest vocalist Hannah Lizotte sings "I'm a Little Princess" about the variety of occupations a princess can have. The remaining songs include "At the Baseball Game," "Haunted House Party," "Clawzy the Sea Monster," "Olympic Games," "Willy the Woolly Mammoth," "Roadrunner," "Daddy is a Rock and Roll Star," and "Shy Shark." VERDICT These energetic, foot-tapping, booty-wagging tunes will have young listeners moving and grooving.–Beverly Wrigglesworth, San Antonio Public Library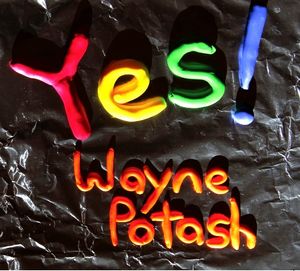 Review by Nina C., WERS-FM
Positivity is always a good thing, and singer-songwriter-instrument player extraordinaire Wayne Potash's album Yes! serves to inspire just that. Whether your interests include in depth musical descriptions of trucks and canine space-travel or you just enjoy listening to catchy tunes with your family, this album (the overall theme of which is "positive affirmation and fun") will put a smile on your face.
Weighing in a 15 tracks in total, this album (which just came out in February of this year) offers a variety of styles and sounds for any situation- and I'm not just saying that. In order to test the myriad of uses for the music on Yes!, I engaged in the various activities associated with my day-to-day life and accompanied myself with the tunes via speakers. While walking to my morning class, I found myself bobbing my head to the blues-y "Rock Island Line." On the way back, my song of choice was the aptly named rock song "Seven Nights to Rock." Finally, when I'm headed to the mystical land of dreams tonight I'll be joined by the steady and upbeat yet soothing melody of "Sleep in a Tent." These are just a select few- I worked out, ate salad, and did my homework to the rest, and felt a whole lot more positive about those plus life in general in the process!
What really makes Yes! great, however, is the outstanding performance of the band as a whole. Mr. Potash alone is a force to be reckoned with, but throwing the accompaniment of so many talented musicians into the mix really takes the songs to a new level of acoustic enjoy-ability. I would recommend this album to any listener, young or old, who likes to smile and have a good time!
Catherine Brockbank, Children's Music Network
Big shout out to one of my favorite musician colleagues in the Children's Music Network. WAYNE POTASH!!! His classic "Trucks" is the number one little boy song of the decade I swear. He does great work as and educator and musician for all ages. 
Review by Warren Truitt on About.com. 4 and 1/2 stars.
Wayne Potash's seventh kids' music release might surprise longtime listeners, but it certainly won't disappoint. Whereas his last CD, A Day in the Life, was steeped in classic rock influences, Yes! has a definite alt country feel, with touches of modern bluegrass. One thing that makes Yes! work is that Potash performed and produced the album in a way that all the songs mix and meld into a cohesive sound. No genre-jumping was needed to create this great album!
The Artist:  Parents' Choice Award winner Wayne Potash has been creating music for many years in and around the Boston area, including stints in the groups X-Dreams, The Hackmasters, and The Winiker Big Band. He inadvertently stumbled into the kids' music scene, which led to the releases of his kids' music albums The Wayne Tape in 1989, Music Fun in 1994, Yodel for a Fish in 1999, Living Room Demos in 2002, Don't Forget the Donut! in 2005, A Day in the Life in 2009, and now Yes! in 2013.
The Music of Wayne Potash's 'Yes!':  Yes! kicks off with a pretty straight bluegrass version of the traditional tune "Old Dan Tucker," inspired, according to Potash, by Pete Seeger's recording. The loping country tune "I Like Trucks" sounds a little like a Roger Miller song, while "Bold Beaver" tells the story of a brave rodent via a super melody and catchy chorus that'll remind you of a John Denver pop song. The chorus of "Allis Chalmers" sounds vaguely like "The Ballad of Davy Crockett" and tells the story of the tractor Potash used as teenager, and "Sleep in a Tent" is a wonderful tune about the outdoors that has a feel similar to the organic country sound on The Okee Dokee Brothers' latest album Can You Canoe? Originally released on Don't Forget the Donut, "Seven Nights To Rock" introduces young listeners to Moon Mullican's classic rockabilly tune written by Buck Trail, Louis Innis, and Henry Glover. "Flying an an Airplane" has a smooth, organic sound similar to The Doobie Brothers' mellower stuff, while Potash and band play a chugging version of the blues song "Rock Island Line," a tune made popular by Lead Belly. Skiffle artist Lonnie Donegan, a favorite of the young Beatles, recorded his version in 1954, so Potash and band included a tiny snippet of "Get Back" in their recording of "Rock Island Line."
More Music from Wayne Potash's 'Yes!':  Lucy Sollogub wrote the folk tune "Underneath It is Me," a song about the real you sung by Hannah Lizotte. I wouldn't even have to tell you because it's so evident, but Potash channels Led Zeppelin through "Yes O Yes," a song that is heavily influenced by that classic band's manic backwoods bluegrass tune "Bron-Y-Aur Stomp" from Led Zeppelin III. "Penguins Attention" is an audience participation song recorded at a live concert, while the environmental song "I Wanna Be Green" sounds a little like The Monkees' tune "Zor and Zam." "My Name is Joe" is another classic audience participation song that includes lots of sound effects to accompany each line of the tune. Potash and band play a nice bluegrass version of the traditonal "I Had a Rooster," a song included on the Pete Seeger compilation Birds, Beasts, Bugs and Fishes, Little and Big. The album ends with a treat, the original 1983 version of "Dogs in Outer Space," a New Wave-ish rocker by Potash's former band X-Dreams.
The Verdict:  Wayne Potash has been in the kids' music game for a long time now, so it's to his credit that his albums keep getting better as he goes along. Yes! is a great little chunk of alt country for kids, introducing children and their families to traditional tunes and original songs, all performed with an organic warmth unique to Wayne Potash and his musical friends.
Review by Stefan Shepherd, Zooglobble
Boston-area musician Potash has always been a little retro in his approach -- no revved-up post-ironic alterna-pop for him, nosiree. When I reviewed his 2005 album Don't Forget the Donut, I praised his goofy lack of pretense, and time has not changed Potash's approach much. You'll find some great preschooler tracks. "I Like Trucks," for example, is a slow-moving country-folk song that is so ear-wormy and familiar that I could've sworn I'd heard it on a previous record. I hadn't. It is an instant transportation song classic, and "Allis Chalmers," a love song to a tractor with a great singalong chorus, is almost one as well. Rootsy originals and traditionals with a dash of classic rock, gentle and empathetic,
Yes! is a sweet album for the wee ones. Recommended.

Review by Paul Shackman, Booklist
This collection of 15 songs opens the doors to New England performer Wayne Potash's music, which encompasses, with no incongruity, the natural world and machines. Potash easily extols the prowess of a "Bold Beaver" and the versatility of "Allis Chalmers" farm tractors, and he skillfully packs in a lot of information. It's fun to camp out and "Sleep in a Tent," yet there's no shame in admitting "I Like Trucks." The album is a mix of 7 Potash originals and 8 covers, including the rockin' "Rock Island Line" and old-timey "Old Dan Tucker" and similarly authentic "I Had a Rooster." There's a lot more here, from "Flying in an Airplane" to "Dogs in Outer Space," and every song gets a solid, entertaining treatment, whether country or rock or an adept combination of styles.
Potash knows his young audience, and his music mirrors their likes and stirs their enthusiasms.
Review by Beverly Wrigglesworth, School Library Journal
Wayne Potash sings seven of his own compositions, six traditional songs, and covers two more numbers on his seventh release. This lively, upbeat album features bluegrass, country, rock, and folk musical styles, with excellent vocal and instrumental performances on guitars, bass, fiddle, banjo, mandolin, autoharp, piano, keyboards, drums, percussion, and mallets. The Boston Children's School Chorus joins him on several songs. The traditional "Penguins Attention" and "My Name Is Joe" include participatory movements. The other traditional numbers are "Old Dan Tucker," "Rock Island Line," "Yes O Yes," and "I Had a Rooster." Among the other tunes are "I Like Trucks," "Bold Beaver," "Sleep In A Tent," "Seven Nights To Rock," "Flying in an Airplane," (and through rainbows), "Underneath It Is Me," (wearing a costume), and "I Wanna Be Green.
A fun and entertaining album suitable for the whole family.
Potash Creates Classic Kids' Music Via Classic Rock Influences, About.com  5 Star Rating
      A Day in the Life, a 24-song rock opera for and about kids, is literally about a day in the life of your average kid, from his wide-eyed waking moments to dreams of trains. Potash himself admits being influenced musically on A Day in the Life by classic folk, country, and rock musicians, including The Beatles, Bruce Springsteen, Woody Guthrie, The Who, Johnny Cash, Pete Seeger, and Bob Dylan.
     Parents' Choice Award winner Wayne Potash has been creating music for many years in and around the Boston area, including stints in the groups X-Dreams, The Hackmasters, and The Winiker Big Band. He inadvertently stumbled into the kids' music scene, which led to the releases of his kids' music albums The Wayne Tape, Music Fun, Yodel for a Fish, and now A Day in the Life.
     The Music:  A Day in the Life is packed with irresistably catchy tunes like the album-opening "Wake Up," the dobro-flavored "Seeing My Friends," and the swaying "Lunch." You also get some blues boogie tunes like "Ready for Dinner" and "Clean Down", a few straight-ahead rockers like "Getting Dressed," and a touch of country rock in songs like "Eat My Breakfast."
     Potash must have realized that "After My Bath" was so influenced by The Beatles' "Getting Better" that he threw in a lyrical reference to "Yellow Submarine." And dig the classic rock trio of "Snack Time," "I'm Going," and "I'm an Artist:" the first echoes Who's Next-era Pete Townshend, the second mirrors Paul McCartney's joyful "Dance Tonight", and the third is reminiscent of the wistful rock of The Bevis Frond.
     Other highlights include the hypnotizingly beautiful "I Wanna Take a Nap," the tender ode to toy trucks "Backhoes", and the precious, harmony-filled "Cuddle Right Up." These 24 short songs (most are under two minutes long) really convey the wonder, frustration, and joy of being a kid from a kid's point of view.
     The Verdict:  Although A Day in the Life is filled with a variety of musical styles, Potash and his band's performances tie everything together thematically so that each song flows into another on the album, giving the whole project a cohesive sound. Wayne Potash's A Day in the Life is a brilliant idea expertly and entertainingly brought to fruition, and is one of the best kids' music albums of 2010. - Warren Truitt, About.com Guide

Parents' Choice Award winner Wayne Potash creates a catchy and fun collection of songs about everyday life as a kid from the moment they wake until it's time to go to bed. -Mary Riley Styles Public Library, City of Falls Church, Virginia

A Day in the Life. CD. 42 min. School Library Journal
PreS-Gr 3–Based on an idea by Wayne Potash's son Noah, the 24 songs collected here tell the story of a child's day from the time he wakes up until he goes to bed. Each of the short songs relates an aspect of the day from "Getting Dressed" and "Brush My Teeth" to "Snack Time," "I Wanna Take a Nap," "Time to Go," "Ready for Dinner," and "Cuddle Right Up." Potash's lyrics aptly capture the emotions and thoughts of a young child and will have listeners singing along. He offers a comprehensive look at the day, including songs about hygiene like "I'm Going" ("I'm going to the potty/And then I will wash my hands") "Hands Clean," and "After My Bath." The music accompanying the lyrics is expertly played and includes trombone, trumpet, mandolin, saxophone, and more. These brief songs will be easy to incorporate into story times or classroom lessons. A solid addition to all collections.–Veronica Schwartz DeFazio, Plainfield Public Library District, IL

Cool New Music from Massachusetts
by Amber on November 17, 2009, BostonChildren'sMusic.com
Wayne Potash had a great idea for a new CD… Well, actually his son had a great idea for a CD and Wayne ran with it. Why not create a mini-opera about A Day in the Life of an ordinary little kid? From waking up in the morning to eating breakfast, playing to napping, it's all here. What I really like about this album is that being a "mini-opera" each song is relatively short, which means they become great songs to sing to your own little one while going through your daily routine. I've found that it's so much easier to get my son to cooperate when we have a dedicated bath time song or a memorable clean up song. All I have to do is start singing the song and he understands immediatley what it is we're doing. This CD is full of great routine songs! I also love that there are exactly 24 songs. Is that because there are 24 hours in a day? Very clever!

       Zooglobble/SAShepherd  
A number of months ago, someone e-mailed me and suggested I check out the kids music of Boston-area musician Wayne Potash. She said that he was (and I'm quoting here), "completely lacking in hip-ness... His band is called 'The Music Fun Band' which is one of the stupidest names I've ever heard of, and Wayne looks like a hippie freak wearing a fish hat.  However, if you can get past that, he's an amazing musician for little kids." 
       Well, those of you who have read me for any length of time know that those are exactly the kinds of things I can get past. (I don't think I ever had a fish hat, but did have a bag that looked like a trout, so there you go.)  And if you can get past those things (and th
e not-terribly-inspiring album cover, too), his 2005 album Don't Forget the Donut! might just be up your alley. From goofy little songs like "Stunt Car" and "Wiggly Tooth" to breezy reworkings of classics like "When the Red Red Robin Comes Bob Bob Bobbin' Along" and "The Frim Fram Sauce," Potash has a relaxed attitude that serves the music well. He's not trying to remake children's music, he's just having some fun.
       Not that the music isn't well-played. Potash mixes some jazz (the classic tracks above) with some bluegrass ("Hot Corn, Cold Corn", "Cindy") along with some poppier originals like the groovy "Lobster Dance." His duet with Suzanne Clark on "Down in the Valley" is -- dare I say it? -- better than Dan Zanes. I liked Potash most in his quieter, folkier moments, such as on "Street Sweeper," as opposed to the more '70s guitar-oriented stuff at the end of the album (it's about 8-10 minutes too long), but it's all done without pretension. (Proof of that is the ended-by-laughter version of "Haul Away Joe.")
       Kids ages 3 through 7 will enjoy these songs the most. You can hear samples of all the tracks at the 48-minute album's CDBaby page. Yes, the album is 3 years old at this point, but he's also working on a new CD. Wayne Potash isn't trying to set the kids music world on fire, he's just covering some good traditional and classic songs and writing decent original music. Don't Forget the Donut! might not become your family's most favorite album, but I can see it lasting in the CD player long after other CDs have worn out their welcome. As my original e-mail tipster said, "he doesn't rock, exactly. He's extremely uncool. And yet, he's pretty amazing, either despite those things or perhaps because of them ." I think those of you out there know if that applies to your family.

Recommended.



What fun! And what good listening for kids or anyone! While this is the fifth album from Boston area singer-songwriter Wayne Potash, it was our first exposure to this master of kids' music. Arrangements are widely varied, tight, and nicely voiced with a range of instrumental combinations including guitar, banjo, bass guitar, drums, harmonica, fiddle, horns, accordion, piano, pennywhistle and children's chorus.
Normally a primary pleasure in children's albums is the original material — seeing how successfully the performer has identified and touched upon the joys and fears within their young audiences. Often the standards and traditional songs are fillers. But here the arrangements are often sweet, as with Tad Hitchcock's lead guitar on "When the Red Red Robin Comes Bob Bob Bobbin' Along." Similarly welcome are the contributions of the Boston Children's School Children's Chorus on five songs; they have the vocal texture of the enthusiastic young children, but with no distracting stray or sour voices.
Of the six songs by Potash, at least two will be keepers for teachers and others who sing with children. "Wiggly Tooth," here nicely accompanied with guitar and pennywhistle, has a simple repeated eponymous refrain for sing-a-longs; with his "Lobster Dance" it's easy to imagine the pleasure of children playing the roles of lobster, crab, and shark. Teachers may also want to consider the traditional "March of the Leprechauns" as another song for upon-their-feet fun.
Ironically, the one song that common sense would have suggested dropping — a weak a cappella version of "Haul Away Joe" which quickly dissolves into laughter — has survived repeated listenings and still brings a smile.

— FL/SL Sing Out! Vol. 50 #2 Summer 2006
       Wayne Potash is a man who knows how to play to his audience. More importantly, he's not afraid to play with them. Don't Forget the Donut is a children's album in more than its choice of music. Potash performs 19 of the most memorable melodies in American music with bright, understated guitar playing and a friendly vocal delivery that positively begs the audience to sing along.
       And sing along they do, on tracks like "Get Your Kicks (On Route 66)." Young children won't be able to resist adding sound effects to the ballad of the "Stunt Car," or shouting out orders for an extravagant lunch with plenty of "The Frim Fram Sauce." Any adults worried that Donut might be too sweet for their taste will soon find themselves singing, too, trying to match the complicated spelling rhythm of "Constantinople" and the familiar patter of "I've Been Everywhere, Man." Potash never grandstands or indulges in extravagant displays of guitar work. His songs are pitched to the level of his audience, so that a whole family car full of impatient children and tired adults can join in the "March of the Leprechauns" or instruct "Haul Away Joe."
       The songs range from traditional favorites to Potash's original work, with a few contributions from other more modern songwriters. It's no shame to Potash that his work isn't always as strong as the traditional tracks; songs like "Hot Corn, Cold Corn" and "Juba" have after all been tested and polished by generations of performers, and even the more recent standards like "I've Been Everywhere, Man" and "Get Your Kicks (on Route 66)" have proven themselves over at least a few decades.
       But Potash's songs and rewritten lyrics have their own charm, and it wouldn't be a bit surprising to hear his "Lobster Dance" on a new singer's album 30 years from now. Even if Don't Forget the Donut doesn't make it quite that far, it's still sweet enough to sustain a childhood's worth of play, and substantial enough for parents to sink their teeth in, too. -
 Sarah Meador, Rambles.NET, 13 May 2006
       Singer songwriter Wayne Potash delivers an energetic mix of traditional tunes, old favorites, and kid-friendly originals in this collection that leans heavily toward songs about life on the go. Parents and kids will enjoy his versions of "When the Red Red Robin Comes Bob Bob Bobbin' Along," "I've Been Everywhere Man," and "(Get Your Kicks on) Route 66," as well as pop-influenced turns on traditional songs like "Cindy" and "Down in the Valley." Potash's original songs are the real standouts here, especially the surprisingly poetic "Streetsweeper," which elegantly captures the starry-eyed relationship between preschoolers and big machines. With titles like "Wiggly Tooth" and "Look at My New Shoes," Potash's original songs highlight important details of a child's world.
–School Library Journal, Kathleen Kelly MacMillan, Carroll County Public Library, MD


With a kind and gentle voice, and musically sound accompaniment, Wayne Potash puts his stamp on the tried and true and serves up an original half-dozen songs covering topics from new teeth to new shoes. Young back seat listener-riders will enjoy taking "Stunt Car" and "Street Sweeper" for a test drive.

-Parents' Choice Awards

"If James Taylor had chops like Johnny Cash, he'd be Wayne Potash. Wayne's an exceptional children's music artist."
-Kimberly Robasky, Kids Music Web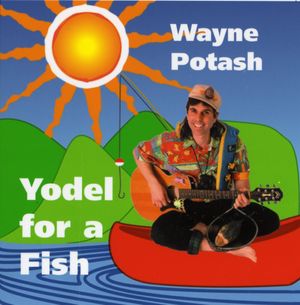 My almost two-year old loves this CD! And grownups can listen to it repeatedly without going crazy. Excellent musicians, variety of instruments and styles, fun words.
Amazon 5-star customer review 
My 3 year old loves this CD - she plays it over and over, and the music is fun and catchy for adults too - I find myself humming the tunes at work. The lyrics are not dumbed-down and are actually quite clever if you listen carefully. All around great.

Amazon 5-star customer review
I agree whole-heartedly... a great bluegrassy, rootsy, approachable CD that's loved by our 5 and 3 year-olds. Fun, danceable, great lyrics, acoustic instruments, and parents like it too!

Amazon 5-star customer review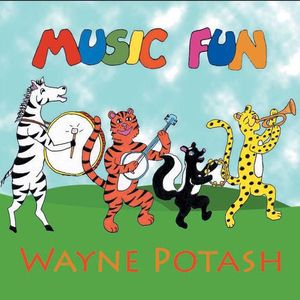 Singer/songwriter Wayne Potash has recorded 19 songs about shy sharks, dogs with birthdays, and a club you can only join if you have striped fur. "A Turtle Can't Talk Back," the most melodic and well performed song on the recording, blends facts about turtles with the story of the singer finding a turtle trying to cross the road. Potash shows great potential as a children's songwriter. Other fine original compositions include "Big," "Shy Shark," "Stripes," and " A Puppet Comes To Life." Potash also covers other popular songs such as "The Garden Song," Willie Nelson's "On The Road Again," and several American folk songs. Hopefully Potash's next recording will showcase more of his fine original songs.
School Library Journal, Rob Reid